Easiest Way Of Managing Visitors
Become compliant with personal data protection law while greeting your customers with Visitor Management tool.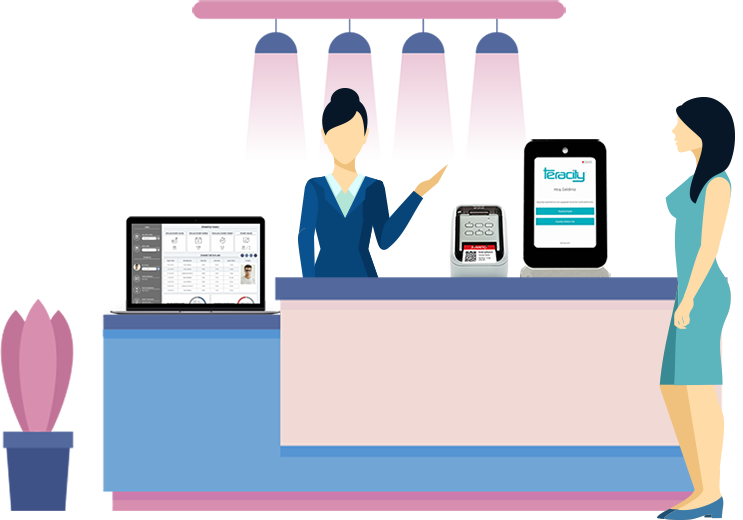 Higher Prestige With Visitor Tool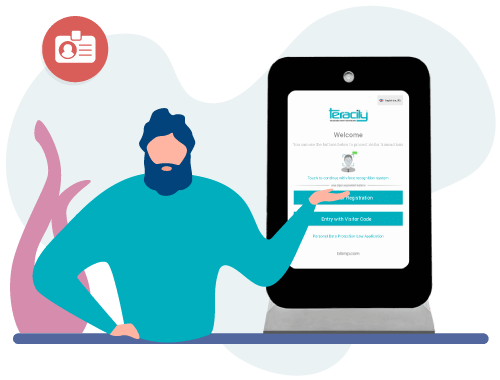 1a
Visitor Registration of "Visits Without Appointment"
Visitors without an appointment; can quickly create visitor records by entering their name, surname and mobile phone information via touch panels. All the process is done in line with the personal data protection law. According to the institution's need, ID number, company, address, plate number, e-mail information can be obtained from the visitor. Bilimp technology eliminates the need to obtain an ID card.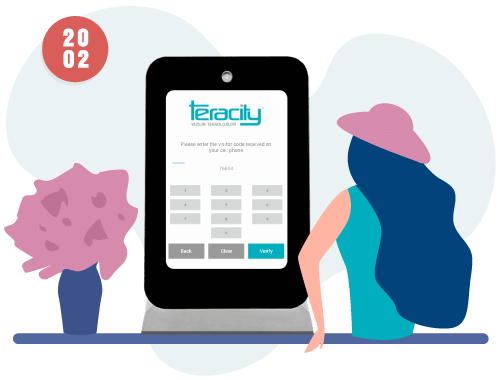 1b
Visitor Registration of "Visits by Appointment"
By the virtue of the "visitor code" technology, visitors with an appointment can pass immediately. While creating the appointment, a 5-digit "visitor code" is sent to the visitor via SMS. Visitors have to just enter the "visitor code" on the touch panel.
2
Selection of person to visit and confirmation
Via the panels, visitors can choose the visited person. Bilimp notifies the host via SMS, e-mail and Biri notification. If the system is operating in "UNAPPROVED" mode, the registration process is complete. An approval will be needed through the notification, if the system works in "APPROVED" mode.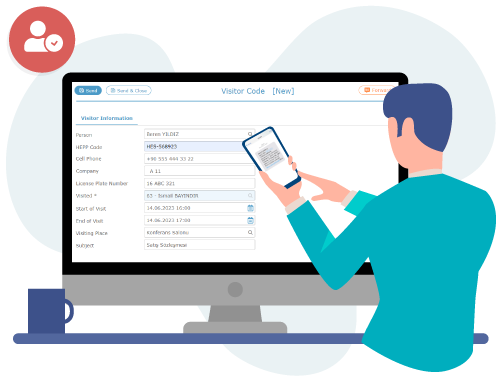 ADVANCED FEATURES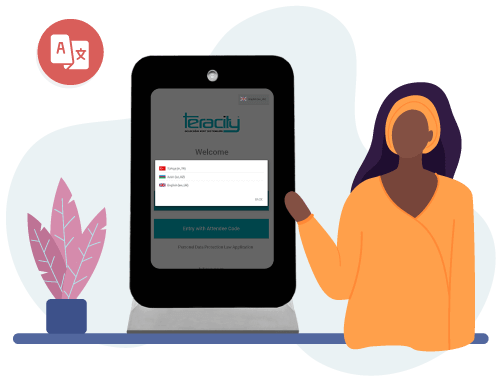 1
Multi-Language Option

Bilimp has a multi-language feature to enable foreign visitors to easily register in their own language. English, Azerbaijani, German, French, Spanish languages are available for touch panels. It is possible to add an optional language upon request.

2
Visitor Card Printing

A visitor card can be printed for the visitor who completes his/her registration with the information of visitor and the meeting. QR code is printed for access to places integrated into turnstile or automatic door system. In addition, if desired, guest wi-fi passwords are automatically printed on the visitor card.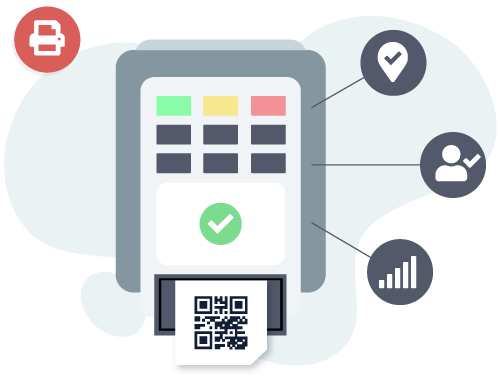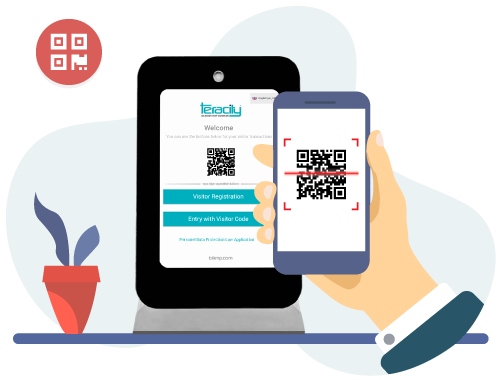 3
Touchless Entry

There is a touchless entry feature that allows visitors who do not want to use touch panels, to register with their smartphones. By scanning the QR code on the visitor panel, visitors can get access easily.

4
Send Addresses and Maps to Visitors

For visitors with an appointment, Bilimp sends "address" and a "map link" along with the "day and time of the visit" to the visitor via SMS. According to preference; it provides the opportunity to send a thank you SMS to the visitors when the visit is completed.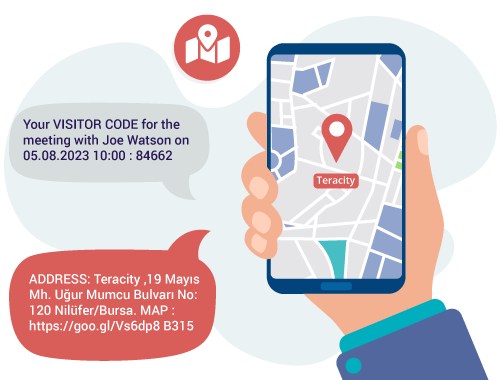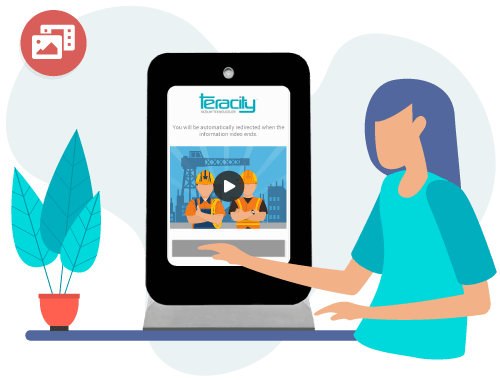 5
Show Videos and Pictures Through Panels

Before the registration is completed, you can show videos and pictures to the visitor. It offers the opportunity to make the visitors watch occupational safety videos. Video and image fields can also be used for activities such as information or advertising.

6
Visitor Tracking via Photograph for High Security

For institutions or companies that require high security, it offers the opportunity to record visitors with photos. Each time the visitor comes, the registration process is done by taking a photo via the camera on the touch panel.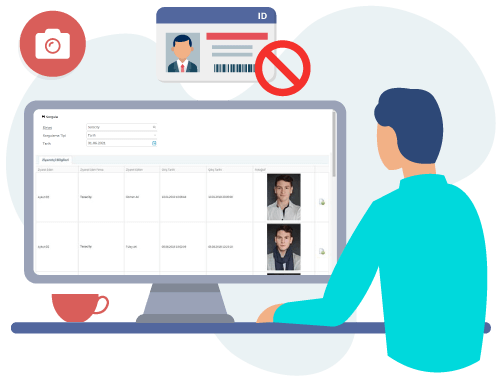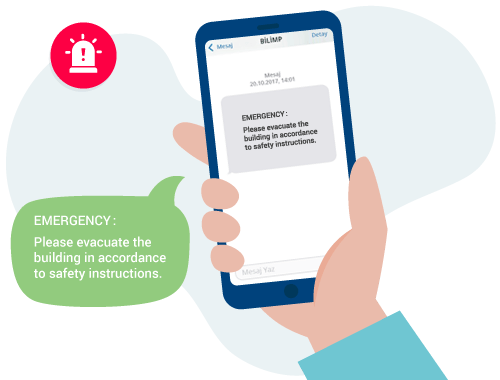 7
Emergency Message

Since all visitors are registered with their mobile phones, during an emergency such as earthquake, fire, etc., the institution is able to send an emergency SMS to visitors.

8
VIP and Prohibited Visitor

Bilimp provides fast and easy access to visitors defined as VIP. It is possible to define "banned visitors" for persons who may be prohibited from entering the institution or company. Entry approval is automatically blocked for these people.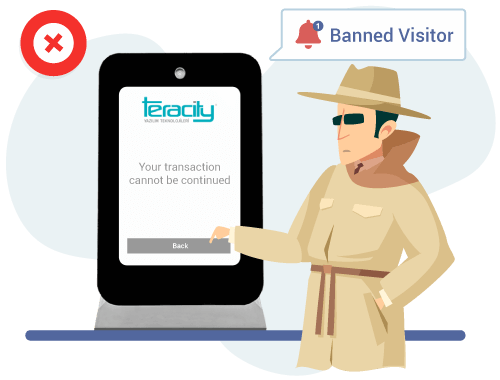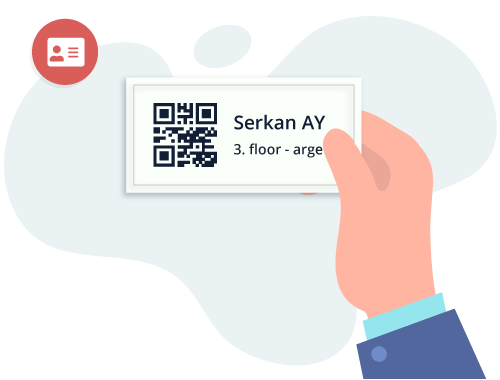 9
Define Periodic Visitors

Visitor codes generated for appointments are valid on the same day. It is possible to generate periodic visitor codes and print cards (interns, subcontracted workers, etc.) who will come regularly within a certain time interval.

10
Subcontracted Visitor

Periodic visitor code generation and card printing feature is available for subcontractors who will come regularly within a certain calendar interval. It has the feature to automatically manage the documents that are legally required and the expiration dates of these documents regarding these subcontractor visitors.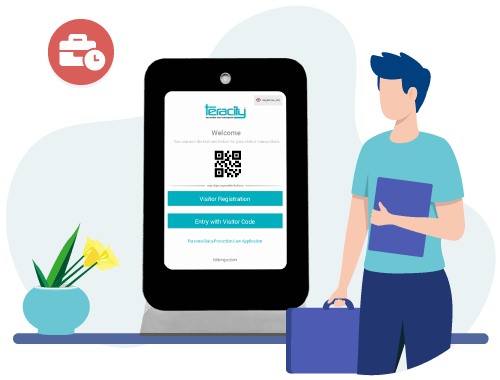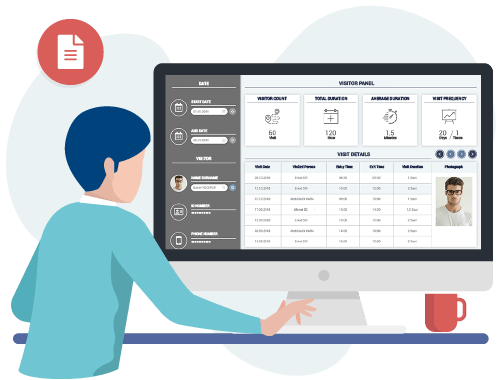 11
Advanced Reporting

Bilimp provides an advanced reporting feature for visits and visitors. It offers many reporting opportunities such as most visited, visit times by person, statistics of the number of visitors by month, day and hour, and active visitors.

OPTIONAL FEATURES

1
Turnstile and Automatic Door Integration

Bilimp can work integrated with all turnstiles or automatic door systems. Integration is achieved with an electronic card. The opening of turnstiles or electronic doors is ensured by reading the visitor cards with QR code produced by the system to a QR code reader. The integration process is carried out by Bilimp business partners. The integration process is charged separately according to the project.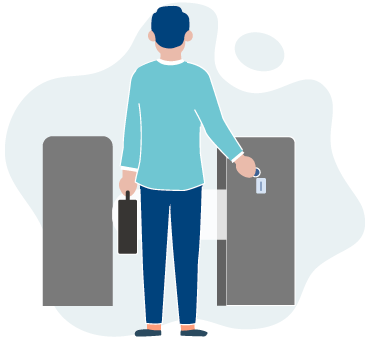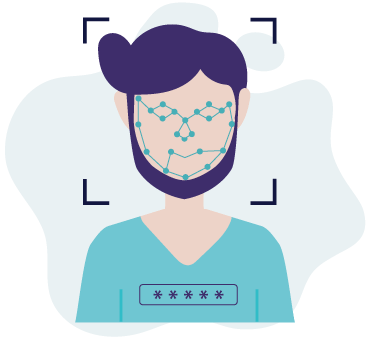 2
Entry with Face Recognition System

Bilimp offers an optional advanced face recognition technology for accessing for the visitors who have been registered previously to the system with a photo. In addition, age and gender determinations of incoming visitors are made automatically. Face recognition is an optional feature and is charged separately according to the project.

What does Bilimp Visitor Management provide?

Makes a Better First Impression
From the entrance of your workplace, it modernizes the environment thanks to professional panels. You can provide a better experience to all your visitors.

Facilitates Visitor Entry

You no longer need to obtain an official document such as an ID card or driver's license from your guests. By getting only name and mobile phone data from the touch panels, you enable them to get quick access.

Saves Costs

Visitors use the entrance panel by themselves and enter their information on their own. In this way, you do not have extra personnel costs.